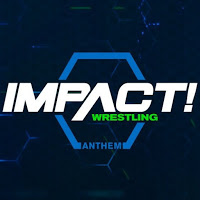 This is a very special edition of Impact that's going to feature footage mostly from places other than Impact Wrestling! Let's start it off in Mexico…

James Storm & Ethan Carter III vs Phantasma Jr & Texano Jr
We see a video package from last week when the TNA guys couldn't get on the same page, and Eddie Edwards was so disgusted that he decided to go to Japan and let Storm and EC3 sort it out. They seem to have gotten off to a good start, since they get the early advantage in a wild brawl that quickly spills out to the floor. Phantasma and EC3 go back into the ring as Storm beats Texano up on the floor, and the Impact guys are still firmly in control. I think the outfits these referees have on are the most ridiculous looking things I've seen since the yellow striped shirt and bell bottoms Sandy Barr used to wear in Portland in the 70s. The AAA guys turn it around and crotch Storm on the bullrope, then run him into the barricade on the floor. EC3 is still in control of Phantasma, but Phantasma dumps EC3 to the floor and tries a dive…but Texano grabs his own partner's ankle to trip him. Interesting. EC3 goes for the 1%, Phantasma blocks and hits a sort of package piledriver, but he and Texano fight each other over who gets the pin, and Phantasma ends up eating the Last Call from Storm, who covers for the win,.
Winners: James Storm & Ethan Carter III
Okay, so the TNA guys get on the same page by lucking out that the other team can't get along? Okay.
Eli Drake is walking around backstage on his cell phone telling someone they ought to come back, but Dutch Mantel interrupts to ask him what happened last week, because he missed three media appearances and isn't returning marketing calls. Drake goes on a rant about what a hot commodity is and blows Dutch off.
We come back from commercial, and Dutch Mantel and Scott D'Amore are arguing over what to do about Eli Drake. Jim Cornette comes in ranting and raving about Drake, and D'Amore walks out to let them talk about it and make sure they have a show tonight. Cornette and Dutch decide to conspire to screw Eli out of the title at Bound For Glory.
We go to Border City Wrestling, where oVe are defending the Impact Tag Team Title against a couple of BCW guys. We cut to the last few minutes of the match, and oVe hits their finish for the win.
We see a video package of Moose and Stephan Bonner cutting a promo on what they're going to do to Bobby Lashley and King Mo at Bound For Glory.
Eli Drake blows off a couple of production guys who want him to do a promo with McKenzie Miles, then we go to Pro Wrestling NOAH where Eddie Edwards defends the GHC Heavyweight Title…
GHC Heavyweight Title Match: Eddie Edwards vs Naomichi Marufuji
Marufuji goes right to the boot to the face, but Eddie comes out on top of a back and forth with a Blue Thunder Bomb. Eddie hits the backpack driver and then dodges a series of kicks from Marufuji, slips out of a German suplex attempt, but eats a kick and suplex from Marufuji. They trade Saito suplexes, Marufuji gets another kick and Eddie responds with a lariat, then knocks Marufuji to the floor with a leaping enziguiri. Marufuji pulls back the mats, superkicks Eddie in the face, but gets crotched on the barricade and then Eddie wipes him out with a dive from inside the ring, through Marufuji, and onto the floor. OUCH! Marufuji ups the ante with the OUCH by pilediving Eddie on the ring apron. YIPES! Marufuji hits a one man Spanish Fly for 2 as the announcers casually mention a win he has over Okada, then Eddie hits the Boston Knee Party for 2, a powerbomb, rolled through into a Tiger Bomb for 2. Eddie hits Emerald Frosion for the win.
Winner: Eddie Edwards
This was clipped, but wish I could have seen the whole thing. Two great wrestlers.
oVe cuts a promo on LAX, then Eli Drake blows McKenzie Mitchell before deciding to cut a promo on why he's the Global Champion and tell McKenzie she looks like a Saturday Night Fever extra.
Laurel Van Ness is in the crowd trying to give people drinks.
We go back to Border City Wrestling, where Petey Williams beats Idris Abraham and two other guys I don't recognize in a four way match.
We see a video package about Eli Drake and Johnny Impact, then we go to our first match in the Impact Zone…
Eli Drake & Chris Adonis vs Johnny Impact & Garza Jr
Garza and Adonis start us off, and Adonis quickly winds up in trouble and on the receiving end of a flurry of offense from the babyfaces. That only lasts for a moment until Impact gets caught in the wrong part of town. Adonis and Drake work him over and dump him to the floor where Adonis beats him up before LAUNCHING him back into the ring where Drake catches a 2 count. Impact slips by and tags in Garza, who tells Drake to stop and then takes his pants off. Impact ditches Adonis to the floor, then he and Garza double team Drake and hits stereo standing moonsaults for 2. Garza goes to the top, but Drake pops up and superplexes Garza for 2 as we go to commercial.
We're back, and Garza is still in trouble. Adonis flattens him with a lariat for 2, Drake tags in and eats a jawbreaker from Garza, but Drake quickly recovers and pops Garza up into a powerslam for 2. Garza gets away and makes the hot tag, and Impact comes in to clean house with leg lariats and roaring elbows. Imapct hits a springboard twisting elbow for 2 as Garza tries a baseball slide, but gets caught and dropped on the barricade by Drake. Drake holds Impact so Adonis can nail him, but Impact moves, Adonis nails Drake, and Impact rolls Adonis up for the win.
Winners: Johnny Impact & Garza Jr
Good match, and now we cut to a video package featuring the return of Alberto El Patron.
Now we're off to CRASH in Tijuana, where Trevor Lee defends the X Division Title. We see him yutzing around town and hassling fans before defending his title…
X Division Title Match: Trevor Lee vs Ultimo Ninja
So Ultimo Ninja is Garza Jr's brother, hopefully he won't do the pants gimmick. He catches Trevor with a series of kicks and a standing moonsault for 2. Trevor catche Ninja with an errant shot and sends him sprawling to the floor. Trevor rolls him back in and covers for 2, then spears him headfirst into the top turnbuckle. Trevor makes a lax cover with his boot, and that just fires Ninja up and moves him to mount a comeback and hit a springboard dropkick for 2. Trevor rolls to the floor and Ninja hits a twisting moonsault over the ropes. Ninja goes for a moonsault and lands on Trevor's feet, then Trevor rolls Ninja up with a handful of tights for the win.
Winner: Trevor Lee
Decent match, and glad to see Trevor getting some bookings out of this partnership.
Video package of King Mo deciding enough was enough after Moose and Stephan Bonner trashed American Top Team's gym, and then it's…MAIN EVENT TIME!
Bobby Lashley vs Moose
Lashley stalls a bit, then starts fast with some offense before eating a dropkick from Moose. Moose unloads some heavy shots on Lashley, forearms and chops, Lashley fires back and chokes Moose on the top rope as Dan Lambert mouths off to Moose from the floor. Moose blocks a kick, pops Lashley onto the top rope, and dropkicks him to the floor. Lambert tries to pep talk Lashley as we go to commercial.
We're back, and Lambert distracts Moose so Lashley can knock him to the floor to take advantage. Lambert chokes Moose with his boot while Lashley distracts the ref by going after Bonner. Lashley rams Moose into the steps and then rolls him into the ring and stomps on his arm. Moose comes back with a big boot and some corner charges, then Dan Lambert runs in and hits Moose with a trophy to cause a DQ.
Winner by DQ: Moose
American Top Team swarms Bonner, but Moose comes in with a chair and causes all but one of them to run, then powerbombs the last one over the top rope onto the rest of American Top Team. Moose gets a mic and says that, since American Top Team wants to get involved here, how about we make the tag match at Bound For Glory into Six Sides of Steel?
---
FOLLOW US ON YOUR FAVORITE SOCIAL MEDIA. WE ARE ON FACEBOOK, TWITTER AND G+!
---
LATEST NEWS var numposts = 5;var showpostthumbnails = true;var displaymore = false;var displayseparator = true;var showcommentnum = false;var showpostdate = false;var showpostsummary = true;var numchars = 100;