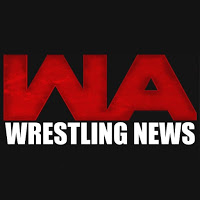 Tax spoke with CBS Local Sports on a number of wrestling topics. Here are some of the highlights:

Jinder Mahal's push being too sudden:
"I don't think so at all. A lot of fans will say the guy wasn't pushed, they weren't doing much with him and he was losing a bunch of matches. To me it's all about, and if Vince McMahon where here he'd agree, if a guy's in-ring work is strong enough, if he can sell tickets on the microphone and get the proper reaction, has some size, looks believable, it's 'Hey, let's give this guy a shot.' I don't have a problem with it at all. …To me, if a guy checks all of those boxes, I have no problem with it. Actually, Jinder Mahal, I'm a fan of his work and his promo style. He's one of the few that have legitimate heat on the microphone in that company."
Shinsuke Nakamura not being placed immediately into title picture:
"Vince McMahon might have a slight hesitation because of connectivity. The lack of an ability to speak strong English to draw people. Nakamura is a tremendous talent, loaded with athleticism, charisma and toughness. I'm a big fan of his, but you have to be able to talk people into the building. This is a good starter angle on the main roster for him, because Ziggler is doing the heavy lifting on the microphone. I'm not surprised that Vince hasn't put him in the title picture with Randy Orton. Actually, I'm surprised he's getting this type of push already. I'm not saying he doesn't deserve it. I'm just saying it's a little tough sometimes, and this is the way WWE looks at it, if you can't go out and cut a promo that people are going to gravitate to. That doesn't mean that someone who doesn't speak can't get over. There are different guys with managers as mouthpieces or speak here or there, and it's pretty obvious that's what they're doing with Nakamura. This is a good way for him to start getting pushed."
Braun Strowman's injury:
"They're used to having problems with talent getting injured. They've done well with Seth Rollins. He's been hit with the injury bug and so has Finn Balor. They've been pushed — start, stop, start, stop — and WWE has done a pretty good job with them. A guy like Braun Strowman is an attraction. Even though he's working full-time, guys like him or Goldberg or Brock Lesnar are attractions. They're not going to give you five-star matches every night. These guys are not wrestling machines in there. They are attractions, great attractions. It's not a big problem. They'd have a bigger problem, God forbid, if someone like Bray Wyatt gets injured. Or now Seth Rollins again, or let's say Jinder Mahal, because they're putting the rocket on him. Someone like Braun, I feel bad for him, but it's not as bad creatively for them. They can shuffle the deck a little bit."
Taz also discussed NXT call-ups and if there is a lull after WrestleMania. You can read the full interview by clicking here.
---
GET EVERY NEWS 24/7 FOLLOWING US ON YOUR FAVORITE SOCIAL MEDIA. WE ARE ON FACEBOOK, TWITTER AND G+!
---
LATEST NEWS var numposts = 5;var showpostthumbnails = true;var displaymore = false;var displayseparator = true;var showcommentnum = false;var showpostdate = false;var showpostsummary = true;var numchars = 100;