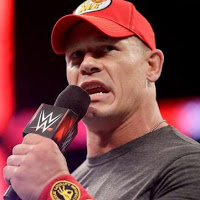 John Cena recently spoke with Justin Barrasso for Sports Illustrated's Extra Mustard website. The full interview is at this link and below are highlights:

Roman Reigns claiming "The Yard" as his:
"Roman is in the trenches every night and he's performing at an elite level with a champion caliber attitude. His performance and the response that he gets from certain audiences is indicative of an elite-level performer. He's doing what I did in 2006, 2007, and 2008. He has all the justification in the world in saying it's his yard."
Reigns, Cena's own return and why it's a good time to be a WWE fan:
"I'm not going to take anything away from Roman. He handles his business with the utmost professionalism. He's doing it on his own watch. He's not one of the those guys that comes over to me and asks me, 'What happens next?' He's doing it his way, and I think that's the best way to do it. He's not trying to be the next John Cena, but he is being the only Roman Reigns-and that's why it's met with so much adversity.

"I can tell you from first-hand because I know. I wasn't trying to be Stone Cold or The Rock, I was John Cena. That was met with adversity from people looking for the next Stone Cold or the next Rock. That's what creates the dichotomy, the polarizing environment. I think Roman is doing a fantastic job, and he has an entire roster stacked with unbelievably gifted performers. It's a good time to be a member of the WWE Universe. You're seeing multiple brands operating at very high capacity, and I just can't wait to get back. I'm doing what I'm doing now, but I really can't wait to get back in the ring. As soon as they cut me loose from this movie in Atlanta, I'll be back as soon as I can."
Wearing sneakers to the ring:
"I'm a very weird thinker when it comes to WWE. If you look at every major sport, their uniforms continue to evolve and change. I think patent leather boots are archaic. We have wonderful technology as far as footwear. I certainly am glad to come out in shoes because I can now wear a more functional cross-training shoe in the ring, whether it's a low top or high top or three-quarter."

"The football helmet used to look different, too. Change is always met with adversity. When some people read this, they'll want me strung from the tallest tree, but that would only make the thousandth time they'd want that. I believe our uniforms, in some cases, are archaic. That deters some people from showing their personality because they get latched onto this ideology. If you go back and trace the history of professional wrestling, the reason that people wore the high boots, the flashy tights, and the robes was to define personality. The high boots are just an extension of a wrestling shoe. I would like to see more diversity in terms of uniforms as a whole."

"[Shinsuke] Nakamura's costuming and appearance directly relate to his personality. Picture him in classic wrestling attire and you wouldn't have the same personality. There are, however, folks that it works for, and I think it works brilliantly for Randy Orton. On the aspect of Roman Reigns, he belongs in the gear that he's in. I don't know him in anything else. I'm in jorts and a ball cap, and that defines me."
---
GET EVERY NEWS 24/7 FOLLOWING US ON YOUR FAVORITE SOCIAL MEDIA. WE ARE ON FACEBOOK, TWITTER AND G+!
---
LATEST NEWS var numposts = 5;var showpostthumbnails = true;var displaymore = false;var displayseparator = true;var showcommentnum = false;var showpostdate = false;var showpostsummary = true;var numchars = 100;