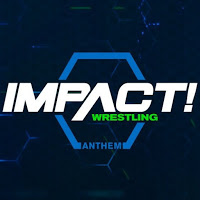 Impact taped part of the April 27th episode of Impact Wrestling tonight. Here are the partial spoilers:

* Borash claims someone is returning tomorrow who hasn't been here since Victory Road 2005 (I think he meant to say 2004, because there is no such PPV in 2004).
* EC3 out, says he carried this company on his back for 3 years, Prichard told him to look in the mirror and he saw a Demi-God. EC3 will not be pushed aside by any new talents that come to the company. EC3 told all the fans to kiss his ass. At Slammiversary EC3 will once again become the Impact champion because he is the best wrestler anywhere today. James Storm comes out out and says he doesn't blame EC3 for doing what he's doing because he's jealous. Storm points out that he's been here since day one. Storm is here because he wants to be, he has been out of the title picture for so long to give young guys a chance. James Storm challenges EC3. They brawl for a little, EC3 gets a low blow and the upper hand. EC3 tells James Storm to remember "I am a Carter… and this company needs me!"
* Ava Storie Vs Christina Von Eerie. CVE retains the GFW Women's Title by defeating Ava Storie. Ava Storie appears to be legit hurt, hasn't got up and medical attention is tending to her. Ava is up and walking out with some help.
* Grand Championship match up next, Davey Richards vs Moose, Scott D'Amore is one of the judges. Davey wins the First Round. Moose wins the Second Round. Third Round is a No Contest when Eddie Edwards attacks Davey. This leads to Davey getting slammed by one of the football players that came out with Moose.
* Kongo Kong(w/ KM, Laurel & Sienna) destroyed Sigmon after a Frog Splash.
* Veterans of War(Mayweather & Wilcox) defeated Mario Bokara & Fallah Bahh when Wilcox pinned Bokara after a Assisted Roll The Dice.
* Swoggle just destroyed Spud with a shillelagh attack & now Spud is being helped to the back.
* Main Event Street Fight: LAX retained over Decay when Steve was Blockbuster Bombed through a Thumbtack covered table.
---
GET EVERY NEWS 24/7 FOLLOWING US ON YOUR FAVORITE SOCIAL MEDIA. WE ARE ON FACEBOOK, TWITTER AND G+!
---