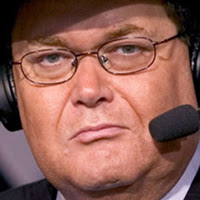 Jim Ross posted on his blog at JRsBarBQ.com. Here are some highlights:
"It was a stellar night for the on going talent development of Braun Strowman and his show ending presentation with The Big Show was memorable. I was impressed by how hard the two, super heavyweights worked and the live audience seemed to enjoy the imploding, ring stunt. Strowman is being positioned so strongly that it could be challenging for some defiant, younger males to get behind Strowman as a villain. What's not to like about a big, bad man who kicks everyone's ass and who has showed little if any 'fear.' I think WWE is on the trail of building a significant star with their positioning of Strowman."
Maryse as a main event level manager:
"The key for the continued ascension of the pairing of Miz and Maryse seems to be on how well Maryse acquires the skill set to be a main event level 'manager,' 'advocate,' etc. Her look is impeccable and she is rapidly gaining more experience and refining her unique, job description. I can see this tandem having a great 2017."
Jeff Hardy going against Cesaro:
"Enjoying seeing Matt and Jeff Hardy back on RAW after re-signing with WWE and Jeff vs Cesaro was a fun match to watch. Jeff still posses his often times unexplained charisma (remember when I called him the charismatic enigma?) Well, he still is."
Much more is contained in Ross' blog, including the passing of Matt Anoa'i and more on this past week's Raw. You can check out the full entry by clicking here.
---
GET EVERY NEWS 24/7 FOLLOWING US ON YOUR FAVORITE SOCIAL MEDIA. WE ARE ON FACEBOOK, TWITTER AND G+!
---