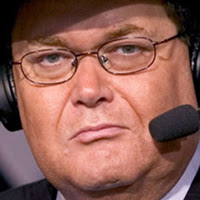 WWE Hall of Famer Jim Ross has posted a new blog on his website. Here are some of the highlights.

Superstar Shakeup:
"I like the concept of freshening up the rosters therefore creating new rivalries and matches. The success of failure of this exercise is going to be largely be up to the talents to be able to make whatever they are handed, work. Legit stars generally find a way but they have to be confident, bold and willing to take a chance notwithstanding doing all that they can to improve their respective game every day to some degree.

Both brands seem to have had good nights with the reimbursement of key talents. Only time will tell regarding this matter if it will be considered a success or not but it looks as if it's off to a good start."
Shinsuke Nakamura:
"Nakamura is the most unique, main event, fan favorite talent that WWE has promoted in years and arguably forever. Asian, fan favorites are a rarity in North America but the fans seem to adore the charismatic former MMA star."
Renee Young and Dean Ambrose getting married:
"According to Renee Young's Twitter, she and Dean Ambrose are married. My congrats to both these very nice people and I wish them years of happiness."
"AJ Styles is arguably and potentially the hottest fan favorite currently residing on WWE TV who is not officially on that side of the fence. It's tough to boo a wrestler in today's presentation of the genre who is a s good as AJ."
---
GET EVERY NEWS 24/7 FOLLOWING US ON YOUR FAVORITE SOCIAL MEDIA. WE ARE ON FACEBOOK, TWITTER AND G+!
---