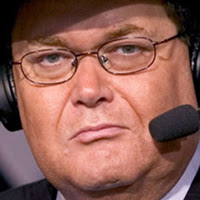 Jim Ross recently spoke with FOX Sports' Sam Gardner about his Wrestlemania weekend plans, including his return to WWE at Wrestlemania 33, future plans and more:

Jim Ross comments on his return to the commentary table at Wrestlemania 33:
"I'm not going to tell you that I didn't have those bald eagle-sized butterflies, but that's to be expected. To be on the card at WrestleMania is not a right. It's really, indeed, is a privilege, and I was very happy that WWE reached out and wanted to, as they say, in their own words, bring me home.
"That conversation began months ago, and my wife was so excited about the prospects and about the potential of us coming to WrestleMania. She wanted to get dressed up and walk the red carpet at the Hall of Fame, and she wanted to hear me get introduced and to see my walk out and call a match. That was her dream, and I shared that dream, which is one of the reasons I was so willing to come here."
Ross reveals some details behind his new deal with WWE:
"I signed a two-year contract that has a specific number of dates that I'm obligated to work, which I think is good for me. So look at it this way: I got my jersey back. I got brought back to my home team, and my opportunities back in WWE, I'm sure, will be multi-fold."
Ross comments on the experience of coming to Wrestlemania weekend after his wife passed away:
"It really was cathartic. I needed this. I needed to be able to express myself.
"I say this as a completely humble man. My audience has followed me since they were children. If I heard it once this weekend, I've heard it dozens of times, that, 'JR, you were the voice of my childhood, and I listened closer to you than I did my parents.' So I knew that I was in a safe haven, and that's the reason that I was here.
"I knew I might cry, but I knew that no matter what my emotions were during our show, that the audience would always understand. And all I really needed was some understanding and a little bit of patience that what I'm going through ain't easy."
---
GET EVERY NEWS 24/7 FOLLOWING US ON YOUR FAVORITE SOCIAL MEDIA. WE ARE ON FACEBOOK, TWITTER AND G+!
---