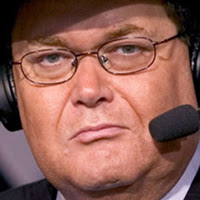 Jim Ross posted on his blog at JRsBarBQ.com. Here are some highlights:
Shinsuke Nakamura's star power:
"Loved seeing Shinsuke Nakamura debut on SDLIVE and I have ample optimism that the King of Strong Style will advance quickly into he main event picture. If Shinsuke can improve his English a bit he will complete the circle of what's needed to ascend to the top of the WWE cards. Nakamura as a fan favorite does not need a manager and will be much more effective as a protagonist if he can communicate for himself. Nonetheless, @ShinsukeN is a tremendous "get" for SDLIVE."
Wrestling fans' behavior at live events:
"In an earlier blog posted here a few hours ago, I addressed the live audience that we heard and saw on RAW. While I am not a fan of censorship and feel that fans who pay hard earned cash for their tickets should be able to express themselves as freely as possible, some of the vocal minority seem obsessed with being noticed and heard no matter what. Some fans have taken exception with my opinion while others have been supportive. Bottom line is that it is just the opinion of one man. Your opinion is just as valid as mine. However, the distractions that some fans feel compelled to exhibit can be embarrassing to other fans who already have to occasionally battle the 'stigma' of being a wrestling fan and who has to attempt, at times, to justify the behavior of their fellow fans. No one loves the passion of wrestling fans more than I but when passion is confused with disrespectful, individualism with the hope of getting camera time and attention it isn't overly flattering."
AJ Styles as a fan favorite:
"Seems like AJ Styles is heading to fan favorite land which is a strategic move for sure. Fans have a hard time jeering excellence and that's what AJ brings to the dance."
Much more is contained in Ross' blog, including his thoughts on Tye Dillinger's debut and Baron Corbin. You can check out the full entry by clicking here.
---
GET EVERY NEWS 24/7 FOLLOWING US ON YOUR FAVORITE SOCIAL MEDIA. WE ARE ON FACEBOOK, TWITTER AND G+!
---