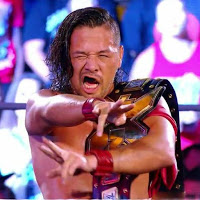 Below is Rock Q&A for his YouTube channel. During the Q&A, The Rock answered one wrestling-related question when he was asked who his favorite people were to work with in the business.

"I have worked with the greatest of the greats in wrestling and I love all these guys," he said. "There's two guys in pro wrestling in terms of wrestlers: one would have to be Triple H, and the other one would have to be 'Stone Cold' Steve Austin. Both guys I love, both guys I respect [and] admire. They're great friends to this day."
The Rock also once again reminded his fans on when wrestling is fake.
"Always remember that those matches that you loved in the past that I won, it was very real, I legitimately beat those individuals," The Rock joked. "I beat everybody when I won, 1-2-3, it's real. The matches that I lost, everything in that match was fake, there's no way that I can ever lose. So that's when you know it's fake as hell, it's a bunch of bullsh-t."
– Triple H has posted the following tweet announcing that NXT will be returning to the UK Download Fest this summer.
It's interesting to note that on the poster he shares Shinsuke Nakamura is not featured at all. It could be an indication that Nakamura could be called up to either the RAW or Smackdown rosters soon:
— Triple H (@TripleH) March 15, 2017
---
GET EVERY NEWS 24/7 FOLLOWING US ON YOUR FAVORITE SOCIAL MEDIA. WE ARE ON FACEBOOK, TWITTER AND G+!
---