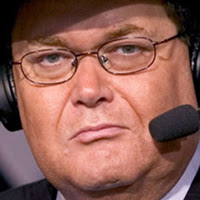 Jim Ross announced earlier this morning that his wife Jan was involved in a Vespa accident and is undergoing surgery to deal with multiple skull fractures.
TMZ Sports managed to speak with Jim this morning and he provided the following updates on her status and the accident she was involved in:

We spoke with Jim who tells us he's absolutely devastated. He says Jan was riding her Vespa to the gym near their home in Oklahoma when she was struck by another vehicle.

Jim says Jan was not wearing her helmet and struck her head, causing multiple skull fractures. She was rushed to a nearby hospital in critical condition where she underwent surgery.

Jim says the situation is "touch and go" at the moment. Jim says he's "hanging in there. It could be a tough day."
---
GET EVERY NEWS 24/7 FOLLOWING US ON YOUR FAVORITE SOCIAL MEDIA. WE ARE ON FACEBOOK, TWITTER AND G+!
---