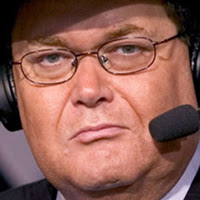 Jim Ross posted on his blog at JRsBarBQ.com. Here are some highlights:
AJ Styles and Randy Orton's SmackDown Match:
"The broadcast was solid until the AJ-RKO match which was excellent and pushed this show up another level. Both men came to work ready to excel and they did. Orton was as good as he's been in a while and when Randy is 'good' he's damn good. AJ Styles once again proved Tuesday night why I perceive him to be the best bell to bell performer in the pro wrestling biz. Isn't it unique how seemingly every opponent of AJ Styles has their best, WWE bouts against the Georgia Peach."
How he would book Roman Reigns and Undertaker at WrestleMania:
"Been asked frequently what I'd do for the finish of the Wrestlemania, Reigns vs Undertaker match and there are multiple ways to do this effectively. The bottom line is that coming out of the match that Roman Reigns has to be the priority so either Reigns shockingly wins via cheating after a seemingly, rugged babyface match goes awry would work for me as would Reigns losing a close one and then leaving the Undertaker laying in his yard. This match is not really about Taker but about how the Undertaker persona can advance Reigns."
John Cena proposing to Nikki Bella:
"Word on the street has it that John Cena will propose to Nikki Bella at Wrestlemania on April 2. That's the speculation and if it comes off it will be tremendously newsworthy perhaps even more than if Cena was in a higher profile bout other than the mixed tag in which he's booked."
Much more is contained in Ross' blog, including his thoughts on Ron Bass' passing and his Ross Report Podcast. You can check out the full entry by clicking here.
---
GET EVERY NEWS 24/7 FOLLOWING US ON YOUR FAVORITE SOCIAL MEDIA. WE ARE ON FACEBOOK, TWITTER AND G+!
---