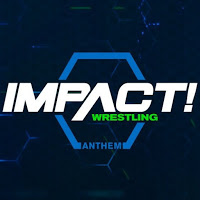 We start off in the Management Roundtable Room Of Management, where Josh Mathews and Jeremy Borash are sitting in for some reason and making a nuisance of themselves while everyone else is trying to deal with the tag titles, Davey Richards and Eddie Edwards, Ethan Carter III, and others. Karen Jarrett comes in and says she hates to interrupt, but she needs to see Sienna in the ring as soon as any of them see her. Both Josh and Borash want the other bounced from the announce booth, so Bruce and Dutch warn them that if they keep this up, they'll both be gone.
We go to the ring where Karen Jarrett comes out to open the show. The fans tell her to fire Josh, and she says she put that on the list, but there's something more important to put on the itinerary tonight. She's ashamed to have to talk about this, but we're all aware of Maria Kanellis-Bennett leaving, and the spot she left open here has led to some extremely unprofessional behavior in the locker room by one Knockout in particular. There's only one word we can call it, and that's BULLIED. She won't tolerate that in her house, so she wants Sienna to bring her little finger out here into her ring. Sienna comes out and asks if we have a problem, and Karen says they do because she hasn't heard a positive word about her from anyone backstage. She doesn't tolerate bullying in her house, so she wants Sienna to tell her if she has a problem. Sienna asks who told her this, and Karen says she doesn't owe her an explanation, but Sienna says she knows it was that little homewrecker Allie. Karen tells Sienna to step back, but Sienna says she got here on her own abilities, talents, charisma, and class, not because of who she married. Karen has a few words for the little lady: she has no clue how Karen got here or what she did to get here, and she remembers being in the position she's in ten or fifteen years ago, saying and doing things she regretted, and she feels terrible about some of the things she's done. But she's going to give Sienna a chance she never had, and that's fifteen seconds to apologize to her face. Sienna asks or what, but Karen just starts to count down…until they are suddenly interrupted by a big, imposing guy who comes out and says that Karen can wipe that look off her face because she knows who he is. Karen says she knows who he is, and he says his name is KM, and Sienna is his cousin, and he demands that she show Sienna and their entire family the respect they deserve. Karen starts to talk, but he yells at her to shut up, and if Karen's talking about fifteen seconds, he's going to smarten Karen up and give her fifteen seconds to apologize to Sienna and their entire family. Now he counts down on Karen, but Braxton Sutter and Allie come out, and Suter attacks KM and runs him off. Sienna bails with her cousin as Allie joins Braxton and Karen, who says that if he wants to come out and talk to her like that and raise her voice, and since Braxton is ready for a fight, KM has a match with Braxton Sutter.
Andrew Everett and Trevor Lee talk about how they plan to make Impact Wrestling great again, then we go to…
DJ Z vs Andrew Everett
Everett and DJ Z do flippy dippy stuff while Josh talks about AJ Styles and Impact's new partnership with AAA. DJ Z hits a somersault dive to the floor, then rolls Everett into the ring, heads to the top, and hits a flying bodypress for 2. Everett gets a springboard dropkick, a leaping enziguiri, and a Pelle kick. Everett heads to the top and moonsaults, landing face first on DJ Z's feet. DJ Z goes after him and gets small packaged for the win.
Winner: Andrew Everett
It was okay, a bit better psychology than most of these matches. Trevor Lee and Hurricane Helms come out to make fun of Everett for hitting a winning streak of 1-0. Helms says it takes a lot more than that to get a shot at the X Division Title, but since he's a generous guy, opportunity knocks next week.
Jeremy Borash introduces Rosemary and points out that she's been dominating the KnockoutS division for six months, and asks who's left for her to beat. Rosemary talks about retiring Gail Kim, ruining Brandi's personal life, and taking the color out of Jade. ODB comes out and introduces herself, she's a four time Knocked Up Champion and an original Knockout, and Rosemary wouldn't be here today if it weren't for her. She plans to be a five time Knocked Up Champion, but Rosemary says the hive disagrees, and she starts to leave. Instead, the entire rest of the Knockouts division comes out of the back to herd her back to the ring. There's all these new girls out here, and they all start brawling in the ring while Rosemary takes off with the belt and ODB in hot pursuit. Borash takes off, and Josh says this isn't the first time Borash has run from a bunch of girls.
Ethan Carter III comes out to the ring and says he'd like to formally apologize for the things he said to Karen Jarrett last week, because he realizes that Impact Wrestling is changes, and he needs to retool, adjust, and be the best. He needs to be the guy who came out and beat everyone, the guy who was unbeatable, unbreakable, and undefeated: he needs to be the real EC3. That sounds an awful lot like the real Arn Anderson! EC3 says he's a 2-time World Champion, and that puts him on the same level as people who are Phenomenal, people who are the It Factor, and the current champion Bobby Lashley, and he will be an EC3-time World Champion. James Storm comes out and says his ears must not be working the way they used to, but he doesn't think he heard EC3 use his name just now. The fans chant for Storm, who says he wants to know why EC3 didn't use his name. EC3 says he meant no disrespect because he was referring to multiple-time World Champions. Storm says he respects the hell out of what EC3 has done here because nobody did what he did for as long as he did it, but Storm's hands are the ones that built this place. He was on the first Impact show in 2002, and EC3 says he was in high school and watched it at his friend's house. Storm wants to know where EC3 was when Impact came to Orlando in 2004, and EC3 says he was probably involved in nefarious activities in his fraternity. Storm was in America's Most Wanted and watched Elix Skipper walk the Six Sides of Steel and wants to know where EC3 was, and he was watching it and thinking it looked real dangerous. Storm wants to know where EC3 was when he was in a team that drank a lot of beer and made a lot of money, and EC3 says he was drinking a lot of beer and spending a lot of money. Storm says they both have the same mindset, and that's to be the Impact Wrestling World Champion, and if anyone deserves a Last Call, it's the Cowboy right here. EC3 says he can't agree more, he built this place, and he respects the hell out of Storm, but this decision is beyond them, the office in the back, and the next challenger for Lashely should be decided by the fans. Storm tries to rile up the fans and get them pumped, and EC3 thinks the fans are going to make the right call. Storm and EC3 shake hands, and Borash asks what Alberto El Patron thinks of all this.
Garza Jr and Lardo Kid are ready for this opportunity, and will take the World Tag Team Title back to Mexico.
Reno Scum are tired of people throwing trash at them, and ready for them to throw money at them. That seems like a reasonable goal.
Grand Championship Match: Moose vs Cody Rhodes
They start brawling right out of the gate, and Moose quickly floors Cody and hits a moonsault for 2. Cody hits a tornado DDT and does Too Sweet at Moose, then they go to the floor where Cody throws a superkick, Moose dodges, and Cody drills one of the judges and knocks him out. They head back into the ring where Cody hits the hanging DDT. The bell rings to end the first round as we go to commercial.
We're back, Bruce Prichard has taken over as the third judge, and Moose wins the first round on a split decision. Cody shuts a Moose rally down with a dropkick to the knees and a punt to the chest for 1. Cody with a ripcord clothesline, then starts putting the boots to Moose's legs before covering for 2. Moose tries a charge, but Cody ducks out of the way and Moose sails to the floor. Cody runs up the corner and tries a dive, but Moose catches him by the neck and hits a Sky High on the apron. Moose has a chair and goes after Cody with it, but Brandi steps in the way and stops him, giving Cody an opening to kick Moose in the gut, then roll him inside and get the figure four leglock. We've got 20 seconds left in the second round, but Moose toughs it out until the end of the round.
Cody wins the second round and goes for a kiss with his wife, but she pulls back and says that the both of them are acting like idiots, and she walks out. The third round begins, they trade right hands, Cody hits a roaring elbow, but Moose counters with a bicycle kick, then dropkicks Cody right in the face. Moose blocks a tornado DDT attempt and unloads with jabs, does flip, flop n' fly, then Cody springs off the ropes and hits the Disaster Kick. Both men are down with about a minute and a half left, and they slowly get up and trade right hands. Moose takes Cody down, Cody gets away, back to trading right hands, and they knock each other out. They go back to fighting and the clock runs down, taking us to the judges.
We have a split decision, and…
Winner: Moose
Well, I think there wa a lot of BS going on in this one to give us a nice, disputed decision.
We see a video package showing the self-destruction of the Wolves as Davey Richards and Angelina viciously turned on Eddie Edwards.
Karen Jarrett comes out with a piece of paper for Jeremy Borash to read, and he announces that there will be a Knockouts Gauntlet Battle Royal to determine a new #1 contender for Rosemary's Knockouts Title! Back to the ring…
KM vs Braxton Sutter
Hey, since like ALL the longtime TNA guys have been doing jobs to every Tom, Dick, and Harry from every local company under the sun since this round of tapings started, I'm gonna go out on a limb and say that I have a feeling KM is winning here. KM boots Sutter in the gut and yells at him while piefacing him in the corner. Sutter ducks a wild swing and unloads with some chops, then puts KM on his ass with a big boot. More chops from Sutter, KM goes for a powerbomb, but Sutter counters to a sunset flip for 2. Finally KM drills Sutter with a dropkick, then goes to a chinlock. Sienna chases Allie into the ring, distracting KM and allowing Sutter to unload with some right hands and a F'N POWERSLAM. Sutter with a pump kick in the corner and a clothesline, but Sienna puts her hands on Allie, distracting Sutter long enough for KM to drill Sutter from behind and hit Project Ciampa (powerbomb onto the knees) for the win.
Winner: KM
Okay, so KM won, but Sutter basically beat the crap out of him the entire match and powerslammed a guy like twice his size. Whatever. Braxton and KM brawl while Sienna and Allie go at it, and Sutter and Allie clear the ring, but then Zombie Bride Laurel comes out to the top of the ramp and screams at them.
LAX is hanging out in Aces & Eights' old clubhouse, and Konnan tells Homicide to make sure nobody interferes, tells the girl to win the Knockouts Title from "that marsupial or whatever she is", and tells the other two to win the World Tag Team Title. We're at commercial.
Someone is walking around in a staircase with a picture of Braxton Sutter and Allie and says that they thought they would live happily ever after…but FURY IS COMING!!! ON 4/13/17!!!!!
Oh yeah, and it's…MAIN EVENT TIME!!!
World Tag Team Title Match: Garza & Lardo Kid vs Decay vs Reno Scum vs LAX
Reno Scum starts off tagging in and out on Lardo Kid, then Scum tags out and Ortiz from LAX tags in and flattens Lardo with a side suplex, followed by a standing moonsault from Santana for 2. Everyone powers out and then Garza comes in and leapfrogs Lardo into a double dropkick to Abyss and Luster the Legend. Lardo hits a somersault dive onto everyone on the floor, then Santana from LAX does the same as we go to commercial.
We're back, and Santana hits an Asai moonsault on Garza for 2, then they hit a modified version of the Demolition Decapitator on Lardo for 2. Abyss comes in and crushes Lardo with a big clothesline, followed by a corner avalanche for 2. Steve is in and hits a short clothesline on Lardo for 2, then Reno Scum tags in and out on Lardo. Lardo finally hits a twisting DDT on Thornstowe from Reno Scum, and then LAX comes in and cleans house. LAX hits the Street Sweeper on Abyss, then a Tower of London/top rope double stomp combo on Steve. Rosemary tries to interfere, but the LAX girl comes in and takes her out, then LAX hits Lardo with a Blockbuster/powerbomb combo for the win.
Winners and NEW World Tag Team Champions: LAX
This was pretty messy with all the bodies in there, but it established that the tag division has been completely reshaped, and LAX is on top. They celebrate in ring as we call it a week.
---
GET EVERY NEWS 24/7 FOLLOWING US ON YOUR FAVORITE SOCIAL MEDIA. WE ARE ON FACEBOOK, TWITTER AND G+!
---