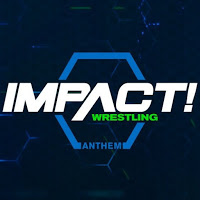 — Impact opened with an graphic in memory of Jan Ross.
— Highlights aired of last week's episode, including the classic ECIII-El Patron match, then Impact opened with Davey Richards making his ring entrance, and he's followed by Suicide.

(1) DAVEY RICHARDS vs. SUICIDE
Even offense to start the match. Suicide hit a running dropkick into the corner for a two count. After, Richards rolled to the outside to shake the cobwebs out. Suicide followed and Richards threw him into the barricade and followed that with a running boot to the face. Back in the ring, Suicide hit a springboard missile dropkick. Borash said he got a text message that "she" is here. Suicide hit a crossbody off the top rope for a two count. Suicide hit a springboard moonsault for a two count. Richards caught Suicide with a kick and then hit a Creeping Death kick to the side of the head for the win.
WINNER: Davey Richards in 6:00.
After the match, Angelina Love went into the ring and kissed Richards.
— At the announce table, Borash is reading a text and again said that "she" has arrived. Mathews began to freak out, screaming at Borash to use proper names instead of pronouns. Pope said they would find out who was here in a few.
— A vignette aired on LAX. The group was hanging out and playing cards. Konnan said that last week was just a warning shot. Konnan said "those Impact crackers" tried to come across the border and "jack" his belts. Konnan said he wanted his team to win the World Tag Team Titles.
[Commercial]
— Backstage, McKenzie Mitchel caught up with Laurel Van Ness, who was still in her wedding dress and was sobbing. She said she was supposed to have babies. She offered to show McKenzie pictures of her babies, and then screamed that they didn't exist. Laurel said she hates everyone. Sienna walked into the room and said that Laurel doesn't hate her or Maria. Sienna said that Allie and Braxton took all of Laurel's dreams away. Sienna said that she had a big, special surprise for Allie and Braxton. Sienna told Laurel to take a shower.
(2) IDRIS ABRAHAM, FALLAH BAHH & MARIO BOKARA vs. MAHABALI SHERA, LAREDO KID & GARZA JR.
Abraham and Garza began the match. There was a lot of fast-paced action to begin the match; both wrestlers hit the ropes and missed clotheslines. Bokara made a tag, as did Laredo Kid. Bahh flipped Laredo Kid to the outside. Laredo Kid hit the rope and Bahh crushed him with a running crossbody. Bokara tagged in and immediately got a two count. Borash said that Bokara and Bahh look like they could already be in the running for a Tag Team Title shot. Mathews said that Bokara is a fan of Schitt's Creek. Laredo Kid dropped Abraham with a cutter. Shera and Bokara tagged in and Shera began to fire up against Bokara. Shera dropped Bahh with a Sky High. Shera hit a Sky High on Bokara, the legal man, and got the pin.
WINNERS: Mahabali Shera, Garza Jr. and Laredo Kid in 5:00.
After the match, Borash said that "she" has gotten through security and is on her way to the arena.
— Borash had the camera cut to the back where there was a black limo.
[Commercial]
— Back from the break, the limo is again shown out back with security standing guard. Mathews said he rides in a limo, "like, everyday."
(3) DECAY vs. RENO SCUM
Thornstowe hit a standing moonsault on Crazzy Steve only a few seconds into the match, but Steve got to the corner and tagged in Abyss. Thornstowe tagged in Luster and he went face-to-face with Abyss. Luster and Abyss traded punches. Later, with Thronstower the legal man, Rosemary got involved which allowed Steve to get control of the offense. Abyss tagged in and splashed Thornstowe in the corner. Abyss dropped Thornstowe with a right hand. Steve missed a cannonball and Thornstowe tagged in Luster. Luster hit a Fisherman's Buster on Steve. Abyss ran in but Luster fought him off, including hitting a flying shoulder tackle off the second rope. Luster and Abyss brawled on the outside. Luster threw Abyss into the steps. In the ring, Steve grabbed Thornstowe. Rosemary went to spit mist into Thornstowe's eyes but he ducked and Rosemary spit at Steve. Back in the ring, Luster pinned Steve for the win after a double stomp.
WINNER: Reno Scum in 7:00.
[Commercial]
— Back from the break, a vignette aired with a graphic that said fury would be unleashed on April 6.
— Mathews said something was happening backstage and Cody stepped out of the limo that was in the back. Brandi begged for him to come back. Cody walked off and grabbed a chair. The camera followed him and as Moose was about to make his entrance to defend the Impact Grand Championship against Eli Drake, Cody attacked Moose as he was walking up on the stage for his entrance. Moose crawled to the ramp. Cody followed him and hit a Cross Rhodes on the ramp, leaving Moose laying. Brandi came out from the back and was annoyed with Cody, who was holding up the Grand Championship. Brandi was telling Cody that they had to go.
Drake was in the ring, wondering what was going to happen. Referees and Impact personnel came out to check on Moose, who was helped to his feet. Moose began to walk to the ring. The officials tried to stop him. The officials finally get Moose to go to the back.
— At the announce table, Mathews said that Cody took care of Moose once and for all. Mathews yelled at Borash that "she" wasn't in the limo. It was Cody in the limo. Borash said "she" will be there in a moment.
[Commercial]
— Back from the break, LAX made their entrance, coming through the crowd and not backstage. Konnan had the mic and said that LAX was back. Konnan said they were there for the Impact Tag Team Titles. Konnan said that they were taking it to the street style.
(4) LAX vs. D.C.C.
Santana and James Storm began the match. Santana spit at Bram, which caused the referee to be distracted, and Ortiz ran in for a double-team. Ortiz suplexed Storm for a two count. Storm got thrown to the outside and LAX attacked him.
[Commercial]
Back from the break, Mathews said that LAX has controlled the match throughout the break. Santana and Storm were both down after a double clothesline. Storm made the tag, as did Santana, but the referee didn't see the tag so Storm has to stay in the match. Seconds later, Kingston accidentally distracted the ref when Storm tagged, so a lot of miscommunication from DCC here. Bram caught Ortiz with a spinebuster. Bram tagged in and he hit a running knee on Santana followed up by a pop-up powerbomb on Ortiz. Storm tagged in and traded punches with Santana. Storm hit a neckbreaker/DDT combination on both LAX members for a two count. Storm played to the crowd and signaled for a Last Call. Storm dropkicked Ortiz. Storm missed the Last Call. Santana rolled up Storm. Kingston tried to help Storm but instead LAX hit a double reverse suplex for the win.
WINNERS: LAX in 11:00.
After the match, Storm looked frustrated and Kingston was apologetic. Storm asked why Kingston spit in his eye? Storm was frustrated that Kingston said it was a mistake. Storm yelled at Kingston that he did it twice. Kingston shoved Storm. Storm turned around and then went face-to-face but Bram broke it up. Storm then walked out on Bram and Kingston.
— Bruce Prichard interviewed Bobby Lashley backstage. Lashley said he does extraordinary things. Prichard touches on Lashley's background with the military team. Lashley said that his training separates himself from the average person.
— A "Make Impact Great" video aired.
— McKenzie Mitchell announced that Moose will defend the Impact Grand Championship against Cody next week.
Mitchell then brought in Braxton Sutter and Allie. Sutter said that he didn't care what Sienna had to say, he would protect Allie for the rest of his life.
(5) REBEL vs. ODB
Rebel jumped ODB from behind as the bell rang. Mathews said that A Few Good Men will follow Impact tonight. So there you go. Back in the ring, ODB got caught with a crossbody for a two count. Rebel scooped and slammed ODB. ODB fired back with a series of clotheslines. ODB hit a Bronco Buster on Rebel. Later, Rebel tried to slap Earl Hebner, but Hebner grabbed her hand, put her cowboy hat on and then forced a kiss on Rebel. ODB went to the corner for her flash. Early took it away and took a swig himself. ODB grabbed Early, put on chapstick and then planted a kiss on Earl, who passed out. ODB picked up Rebel for a TKO, scoring the win.
WINNER: ODB in 4:00.
After the match, ODB raised Earl's hand.
[Commercial]
— Back from the break, Impact airs more of the interview between Prichard and Lashley. Prichard asked about what drew Lashley to pro wrestling. Lashley said he was training for the 2004 Olympics and he told a story about almost getting shot in the head during a bank robbery, but he also suffered a knee injury diving out of the way. Mathews plugged that the entire interview is on ImpactWrestling.com
(6) LASHLEY vs. JAKE HOLMES
Lashley booted Holmes to the outside. Back in the ring, Holmes ate some elbows and then Lashley dropped Holmes with a dominator. Lashley covered but picked up Holmes after a two count. Lashley hit a clothesline off the rope. Lashley hit a delayed vertical suplex. Holmes tried to get out of the ring to avoid a spear but Lashley threw him back in and then hit the spear for the win.
WINNER: Lashley in 2:00.
— A graphic aired that said, "Who is She?" Borash said we would find out after a commercial.
[Commercial]
— Back from the break, Borash brought out Karen Jarrett, who he said was "integral" to getting Impact to this point. Josh, of course, is not excited about this news. Borash said that Karen has a long history with Impact, and he wanted to be the first to welcome her back. Karen gave Borash a hug.
Jarrett said her family started this company, and they put in their blood, sweat and tears. Karen said that the last few years have been difficult as the fans chanted, "Thank you Jarrett!" Karen said that there were times over these last few years, there were a lot of changes. Karen said that the old Karen would have given everyone all the answers, but she's going to take the high road today and she's looking forward. She said that she's looking forward to the future and the changes.
The crowd began to chant, "Fire Josh!" Karen said that she would put that down on her list of changes. Karen thanked the crowd for being so sweet. Karen said that moving forward, she wanted to thank all the fans for being there through all the good times in the beginning.
ECIII's music interrupted her. ECIII said he agreed with Karen that they had the best fans in the world. ECIII said he's friends with a lot of the fans and began to name some of them in the building. ECIII said everyone on the Impact team is great. ECIII said he's a locker room leader and the locker room now is great, "even the new guys who don't introduce themselves."
ECIII called himself the only true star this company has ever created. ECIII told Karen that her top man was reporting for duty. ECIII said that together, they can make Impact great!
"But," ECIII said, "I'm not doing it for your last name. I'm going to do it for mine."
The promo then got really dark. Josh Mathews grabbed a mic and yelled for everyone to stop. He said that he had something to say and Mathews walked up the steps and went into the ring. Mathews called Karen an evil, tyrant queen. Mathews said that Karen's first choice was to put "the JV squad," meaning Borash, at the announce table?
Mathews said he thought, and hoped, Bruce Prichard was dead. Mathews said Dutch is 267 years old. Mathews then brought up "this troll," meaning Borash. Mathews told the fans "who come for free" to shut the hell up.
Mathews said his problem is with Karen. Mathews asked Karen if she knew who his wife was, and said that she has forgotten more about the Knockouts Division than Karen will ever know. Josh said he would "drop some reality" on her, and told her that it's just a matter of time before her family, the Jarrett family, is gone from Impact forever. Karen slapped Josh to the mat and yelled at him to never bring up her family again.
Karen's music played as Pope wondered if Josh would be back next week?
---
GET EVERY NEWS 24/7 FOLLOWING US ON YOUR FAVORITE SOCIAL MEDIA. WE ARE ON FACEBOOK, TWITTER AND G+!
---