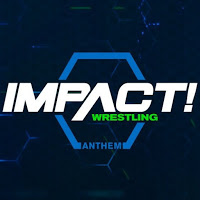 We open up with a video of all the stuff that happened last week, including all the announcer bickering and Alberto El Patron cheating to win the Impact Wrestling World Title, then we go to the ring where Alberto comes out to do the opening promo. Oh, he gave up the World Title a few days after winning it because he doesn't want to win it by cheating…even though he was the one who decided to cheat. Anyway, he's glad he gets to be himself here, and he beat the man everybody said couldn't be beat and proved that he deserved to be champion. Unfortunately, politics mean he's not the World Champion right now, so he wants Bobby Lashley to come out to fight him if he has the cajones. Instead, Ethan Carter III comes out, and he thinks it was noble of him to give up the title since he won it under such nefarious means, but since this is his second day here, he wants Alberto to know that he needs to earn title shots. Since he's the top guy here, he has a proposition for Alberto: tonight, they face each other to decide who gets the next shot at Lashley. Alberto says he was promised a rematch with Lashley (Alberto pinches EC3's cheek) and says he will get one, and EC3 doesn't make the rules, the fans make the rules. The fans go nuts for Alberto, so he puts his arm around EC3's shoulder and says he's sorry, but he's going to go find Bobby Lashley. EC3 says he thought Alberto was a real bad hombre, but he doesn't think he knows who he's messing with, esse! Doesn't Alberto know he's loco? Does Alberto have no mas testicles? Alberto comes back over to get in EC3's face as the fans chant "no cajones" at him, and he says he came here to fight the big dog, not the bitch. EC3 makes sure there's nothing he can say to Alberto to fight him tonight, and Alberto repeats that he's not here to fight the bitch. EC3 piefaces Alberto, so Alberto proceeds to beat the ever-loving CRAP out of EC3, who rolls out under the bottom rope and smiles at Alberto as he backs up the ramp. Alberto goes after him, and security comes out to try and break them up. The fans chant "let them fight" and Alberto agrees, and they're going to face off tonight.
Eddie Edwards talks about how he's going to make Impact Wrestling great again.
We go to the Impact Management Room Of Management, where Dutch Mantell, Bruce Prichard, Pat Kenney, and some other guy I didn't recognize are trying to figure out the tag title situation. Pat Kenney says that Decay said they beat the Hardys 1-2-3, and they should just accept that, but the rest of the Management Team Of Management doesn't like that. Prichard says he knows how to handle this, and leaves the Management Room Of Management to straighten this out.
We see a video package of the history between Eli Drake and Tyrus, then we go to the ring for our opening match…
Eli Drake & Tyrus vs Laredo Kid & Garza Jr
Lardo and Garza are from the same company in Tijuana where the Hardys did the Expedition of Gold, and Laredo does flippy lucha stuff around Eli, who finally just flattens him with a back elbow. Garza is in, and the fans are chanting DELETE! DELETE! DELETE! as Drake completely misses a dropkick and then Garza tears his pants off. Garza dodges a charge and sends Drake to the floor, then he hits Drake with a dive, then Laredo hits a moonsault to the floor on Drake. Back in the ring where Lardo hits a standing moonsault for 2, but then Drake gets to the corner and tags Tyrus in. Laredo tries firing kicks off at Tyrus' knees to no effect, so he tries a move off the top and Tyrus just swats him away as we go to commercial.
We're back, and Tyrus and Drake are still smacking Laredo Kid up. Finally Laredo dodges a corner splash from Tyrus and goes to the apron, but Tyrus just tosses him back into the ring like a fly. He misses an elbowdrop, and this time Laredo Kid gets to the corner and tags in Garza, who comes in like a house of fire…and is quickly planted in the mat by Drake, who then drills Laredo into the mat with a Celtic Cross. Drake calls Tyrus into the ring, but Tyrus is slow getting in and Garza rolls him up for the win.
Winners: Laredo Kid & Garza Jr
Drake is irate and chewing Tyrus out, then we go to the announcers so Josh and Borash can argue some more. Jeremy Borash talks about Impact's new relationship with Pro Wrestling NOAH, and we see some footage of James Storm, Eddie Edwards, and Moose in Japan. Wait a minute, Moose wasn't here last week because he was in Japan, but Eddie and Storm were. Come on, guys, it's called continuity!
Kayci Quinn vs Brandi Rhodes
They talk about how Brandi left the place she used to work as she makes her entrance, then Cody comes in with his GFW title belt and tells Brandi that this match isn't going to happen. He knows Brandi is ready, but Impact is no longer going to pimp out the Rhodes name on their terms, they'll do it on his. He asks Kayci Quinn her name, then he hands her $45 which is $25 more than TNA was going to pay her, and asks her to go stand in the corner. He says excuses are the nails that build a house of failure, and that's where Moose lives. Moose says he's in Japan, but he IS Japan, and the audience is just…too sweet, but Moose is a little man, but as Brandi can attest to, he is the BIGGEST man. He's going to double down and not only challenge Moose, but challenge him for the Impact Grand Championship. He orders his wife to the back…and she does. Okay, I guess we'll call this…
NO CONTEST
Okay, I gotta give Cody credit for the shoot comment about Kayci's pay. We're at commercial.
We're back, and Rosemary apparently came out and attacked Kayci Quinn during the break, and she's still beating her up at ringside when we come back. She throws Kayci into the ring, and Kayci tries to fire back a few forearms, but Rosemary drills her and hits the Red Wedding.
The announcers bicker some more, then we see a video of EC3 talking about how he'll make Impact Wrestling great again.
Ethan Carter III vs Alberto El Patron
Alberto beats up EC3 right from the bell, dumps him out of the ring, and beats him up some more on the floor. He whips EC3 into the barricade, but then EC3 sends Alberto into the ringpost. Alberto recovers and posts EC3 as we go to commercial.
We're back, and EC3 catches Alberto coming off the top rope with a right hand, then starts putting the boots to him before getting a snap suplex for 2. Alberto backdrops EC3 to the apron and rams him into the post, sending EC3 tumbling to the floor. Alberto goes after EC3, repeatedly rams his hand into the ring steps, then sends him into the post. He rolls EC3 inside and covers for 1, then gets a hanging cross armbreaker over the ropes. Alberto off the top with a double axhandle for 2, then he goes back to EC3's arm. EC3 snapmares out, hits a series of back elbows and the Stinger Splash, followed by a flapjack. Alberto blocks the 1%, but gets backdropped to the floor. EC3 goes after Alberto and rams him into the broadcast table, crams some papers from the table into Alberto's mouth, and repeatedly bashes Alberto's face into the front of the table. EC3 rolls Alberto into the ring, but Alberto drills him with a leaping enziguiri and EC3 just tilts over and falls off the apron to the floor. We're back at commercial.
We're back, and the two men are going toe to toe in the middle of the ring. EC3 comes out on top, but then Alberto rips Ec3's head off with a series of clotheslines before hitting a lungblower. EC3 blocks the cross armbreaker, but Alberto rams EC3's shoulder into the ringpost and hits a single arm DDT. Alberto is exhausted as he heads to the top, but takes too long and EC3 knocks him down on the turnbuckle. EC3 goes up for a superplex, but Alberto knocks him down into a hanging position and prepares for a double stomp, but EC3 just sits up and drags Alberto off the top. Nice. EC3 hits the TK3, but doesn't go for the cover. He finally picks Alberto up and hits a second TK3, but still doesn't go forthe cover. Instead, he rolls out to the floor and gets a chair that he brings into the ring. He prepares to break Alberto's skull open like a watermelon, but stops himself and tosses the chair out to the floor. Instead, he picks EC3 up…and takes a double knee to the arm, a superkick to the face, and Alberto gets the cross armbreaker. EC3 fights for the ropes…but can't make it, and he taps out.
Winner: Alberto El Patron
That match was AWESOME. I wish we wouldn't have seen another core TNA guy go down in flames, but they gave us a hell of a match before getting there. Alberto shows EC3 respect and applauds him, then gets a mic and asks for his music to be turned off. He tells EC3 he can't leave yet until Alberto El Patron pays him the respect he deserves as a competitor. He gets down on one knee and applauds EC3, then says he's been in this business his entire life and has faced the most dangerous opponents around, but tonight, EC3 gave him one of the best matches of his career. He puts his hand out to EC3, and EC3 has a lot of words for Alberto, but then shakes his hand. Alberto raises EC3's hand, and EC3 rolls under the bottom rope and heads to the back to give Alberto his moment.
McKenzie Mitchell is backstage to introduce Reno Scum. They are the perfect combination of athleticism and violence, and they are here to be World Tag Team Champions.
EC3 is flipping out in the parking garage, and Bruce Prichard tries to calm him down, but they go too far away to hear what they're saying and have a heated argument.
Madison Rayne talks about how she wants to help make Impact Wrestling great again, then we go to the announcers so they can bicker with each other. Jeremy Borash says "she" will be back next week, then we go to a video package hyping the return of Suicide to Impact Wrestling.
Suicide vs Andrew Everett vs Braxton Sutter vs Trevor Lee
They do flippy dippy X Division stuff. Andrew Everett hits a springboard shooting star press press onto everyone on the floor and lands face first on the barricade with so much velocity that I'm surprised he didn't break his jaw. We're at commercial.
We're back, and they do more flippy dippy X Division stuff. Everett takes two more really ugly back bumps on the ring apron as I wonder if he's got an insurance policy he's trying to collect on. Eventually, Drunk Jilted Bride Laurel Van Ness comes out in the crowd and distracts Braxton, allowing Trevor Lee to palmstrike Braxton and get the win.
Winner: Trevor Lee
Sienna comes out to the top of the ramp and says she hopes Braxton and Allie enjoy the fairy tale while it lasts, because she's going to give it to them worse than Maria. Sienna says it's adorable that the first time they sleep together is going to be in the hospital, then she says Romeo and Juliet are always going to have a tragic ending. Laurel is eating all this up at ringside as we go to commercial.
Moose tells us how he will make Impact Wrestling great again, then our main eventer Bruce Prichard comes out to close the show. He says titles are won and lost in the ring, not in outer space or on the internet, it's inside of a ring, and nobody knows who the hell the tag champs are. But, we're going to find out in two weeks when the top four teams in Impact Wrestling and crown brand new Impact Wrestling Tag Team Champions. Decay's music hits, and they come out to the ring to have a word with Mr Prichard. Abyss introduces them to Bruce, and informs him that they are beautiful. Steve says they are the neverending nightmare of Impact Wrestling, and Rosemary says they are the ones who rescued the title from space and time, so they should get what they deserve, or they will take them. Reno Scum comes out to join the party, and they shocked the world by beating the DCC, so they deserve to be World Tag Team Champions. Here comes Laredo Kid and Garza Jr, and Lardo speaks in Spanish, then Garza translates and says they're here for the title. A brawl with the three teams breaks out, but we have room for one more team out here. Reno Scum and Laredo/Garza get cleared out, and Decay stands tall before the LAX music hits, and here comes…Homicide and KONNAN! They beat up the guys on the floor, then two more guys and a lady come running out of the crowd and lay Decay out, finishing when Homicide hits Steve with a Cop Killa. Konnan says LAX is back, and he wants the white mafia to know that they're serious like a late period. They drape their flags over Decay and head up the ramp as we call it a night.
---
GET EVERY NEWS 24/7 FOLLOWING US ON YOUR FAVORITE SOCIAL MEDIA. WE ARE ON FACEBOOK, TWITTER AND G+!
---