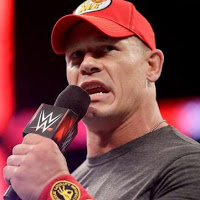 Here is a recap of this week's "Off The Top Rope" segment on ESPN SportsCenter with Jonathan Coachman.
Coach is joined by WWE Champion John Cena. Coach asks Cena what he's most proud about when he hears Coach call him a 16-time world champion. Cena says still being able to still do this after 16 championships. He always says his greatest match is his next and the accolade just means he's been able to do this for a long time. Cena says it's no secret that this is what he loves to do and he's far from retiring, he feels like he's at his physical best right now. Regarding what WWE Hall of Famer Ric Flair said to him backstage at the Royal Rumble, Cena says he was very congratulatory. He shared a special moment with Charles Robinson in the ring after the match and then a heartfelt moment with Flair backstage. Coach asks how AJ Styles has brought the tremendous in-ring chemistry out of Cena. Cena says by pushing the envelope, speaking his mind, challenging him. Cena says it's no secret that he's getting older but people saying he's past his prime or has lost a step causes him to have a giant chip on his shoulder, which he then wants to show everyone he's at his best. Cena praises AJ again and says he told AJ after the match that he was sorry, he was wrong for how he viewed AJ and he thinks AJ is one of if not the best WWE Superstars that steps in the ring every night.
Coach asks about Sunday's WWE Elimination Chamber pay-per-view and what it takes to step inside the Chamber structure. Cena hypes up the Chamber and the WWE Network like only he can, then plugs WrestleMania 33. Coach asks what this WrestleMania will mean to Cena. He says every WrestleMania is the most important day for every WWE Superstar. He says if everything goes well and he makes it out of the Chamber, he's headed to WrestleMania and that's truly like a quarterback making it to the Super Bowl. Cena says he's healthy, feels great and is looking forward to the Road to WrestleMania this year. Cena says he's really excited to get out and perform after taking a back seat for a year.
They also talked about some of Cena's recent non-WWE gigs, Super Bowl 51 champion Tom Brady and more.
---
GET EVERY NEWS 24/7 FOLLOWING US ON YOUR FAVORITE SOCIAL MEDIA. WE ARE ON FACEBOOK, TWITTER AND G+!
---