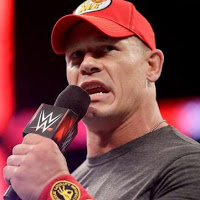 WWE star John Cena recently spoke with Sports Illustrated's Extra Mustard and below are some interview highlights:
On his short 16th title reign:
"To rebut the two-week, 16th title reign, if I'm correct, Ric Flair's 16th title reign was only 24 hours," said Cena, who believed his reign was momentous despite only fourteen days as champ. "They can't all be these massive statements in the annals of history."

On rumors of a possible mixed tag team match at WrestleMania 33:
"As far as WrestleMania is concerned, whatever I'm supposed to do I'm going to do to the best of my ability. I can reference last year as a great example. I was ready, healthy, and one-hundred percent activated by early March, and I was told that I would be assisting The Rock in WrestleMania. Quite honestly, if it weren't for The Rock's involvement in WrestleMania, I would have been told that I would have been sitting out WrestleMania. [People ask] why don't I just go in there and say, 'I want to do this'? Last year, I should have said, 'I want to do this,' but that's just not what I do. This is why I love what I do. You sometimes get an off-the-beaten path request, and it's your job, as a professional, to make it interesting and make it the best you can. To be quite honest, way, way, way back, AJ Styles was an off-the-beaten path request, and I loved that. It brought out the best in AJ Styles and it brought out the best in me. I'll always try to do the best with what I've got."
On The Rock calling CM Punk on Raw last week:
"That's what's made him so successful," said Cena. "His instincts, his ability to do an about-face to the establishment, that's what allows him to connect as 'The People's Champion'. Once again, I think his biggest accomplishment is to be one of the bricks that break the wall of the stereotype that we have."
---
GET EVERY NEWS 24/7 FOLLOWING US ON YOUR FAVORITE SOCIAL MEDIA. WE ARE ON FACEBOOK, TWITTER AND G+!
---