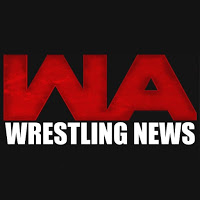 – NXT announcer Percy Watson recently spoke with Byron Saxton about his return to the company for the WWE website at this link. Watson noted that he went back to commodity training after being released from WWE a few years back and returned after receiving a phone call out of the blue one day. Regarding his goals for this run with the company, Watson said:

"Well, this whole experience has been completely surreal to me. But now that I've got a second chance, my goal is to learn as much as possible. I realize that it'll take some time, but I have no problem with that. I want to bring as much energy and "Showtime" to the announce team as I can."
– WWE's website has an interview with referee Charles Robinson at this link. Robinson discusses his role in the WWE Title match between John Cena and AJ Styles at the Royal Rumble. We noted before how Robinson revealed that he suffered a foot injury in the match. He told WWE.com that he tore his plantar fasciitis at around 7 minutes into the match but to keep going. Robinson was looking at being out of the ring for 12 days, making it back in time for Elimination Chamber.
Robinson also commented on the post-match exchange of words he had with Cena:
"We were just talking about how cool it was that I've reffed for Ric Flair so many times and now I'm refereeing his 16th title and tying [it] up with Ric. He thought that was pretty freaking cool."
---
GET EVERY NEWS 24/7 FOLLOWING US ON YOUR FAVORITE SOCIAL MEDIA. WE ARE ON FACEBOOK, TWITTER AND G+!
---