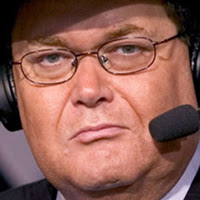 – Since the announcement that Mike Goldberg and UFC parting ways was made public, there has been a lot of speculation on who will be his replacement. One former WWE ring announcer that can be ruled out as a possibly is Jim Ross.
Dave Meltzer confirmed on today's installment of Wrestling Observer Radio that former WWE ring announcer Jim Ross would heading to UFC as his replacement.
Goldberg has been calling UFC fights since UFC 15.5: Ultimate Japan, which took place in December of 1997. Friday's UFC207 was his last appearance with the company.
– Former WWE personality and ESPN's Jonathan Coachman was asked on Twitter about Ronda Rousey signing with WWE following her loss at Friday's UFC 207 event. Coachman responded with the following remarks to the question:
Sorry no chance. You can't bring in her at any point. Perception matters. That performance mattered.

https://t.co/0HGPgVNLod

— Jonathan Coachman (@TheCoachESPN) December 31, 2016
Michael listen to me. It will NEVER happen. They are not in the business of bringing in a broken star and rebuilding her.

https://t.co/JUOAVig2ov

— Jonathan Coachman (@TheCoachESPN) December 31, 2016