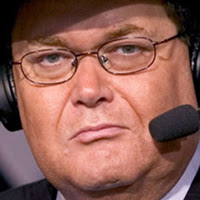 In his latest blog, Jim Ross talks about TNA, and gives his predictions for WWE Hell In A Cell. You can read the entire article here, highlights below:
On How to Fix TNA
The answer to that question is, 'absolutely' but only if the brand is blown up, restarted, renamed, and by finding a more viable TV network/partner on which to air their show. Then TNA, or its successor, needs a small, tight knit, agenda-less team to plan long term, present a reality based, athletic product featuring as many qualified, younger and fresher talents as they can afford. The way this brand has been devalued and abused is regrettable which may be the understatement of the year.<br />
"Make no mistake about it, TNA, under anew name and a fresh management approach, can regain some level of footing within the marketplace but new management, if that's the case, must have a realistic plan and the funds to reach their goals which will only come in time.
Hell In A Cell Predictions
I see Kevin Owens retaining his Universal Title against the newly minted fan favorite Seth Rollins who is still a work in progress with the fans as it relates to moving from villain to hero. No reason these two shouldn't have a helluva outing. For one to think that Rollins must win to cement his 'turn' is pet coon goofy.

See no reason to beat Sasha Banks in Boston as there are a litany of ways to book a match, have a winner and a loser and still elevate both talents. How you may ask? It's all in the story telling, both physically and audibly, and overall execution of the bout's creative. Trust me, it can be done.