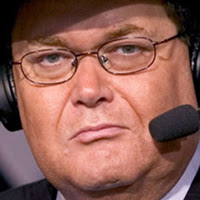 WWE Hall of Famer Jim Ross has posted a new blog over at JRsBarBQ.com and below is an excerpt:
When we first reported that Goldberg was returning to WWE to face Brock Lesnar at the November 20 Survivor Series, many doubted the 'rumor' that will likely be confirmed this Monday night on RAW. I like the 'attraction' aspect of this booking and fully expect it to be a one off and likely won't cline the show.

Cynics hanging their hats on the last match the two wrestled are reaching, IMO, as the lay of the land is much different this time around I expect a straight forward, physical match with Lesnar winning in what I expect to be the last pro wrestling match that the Oklahoma native and former WCW phenom likely will ever have.