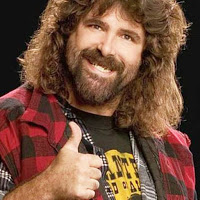 – WWE Hall of Famer and RAW GM Mick Foley has posted the following to Facebook responding to Smackdown GM Daniel Bryan saying that the way he and Stephanie run RAW is "somewhat cowardly":
REALLY?
So McMahon/Foley, the duo who booked the first women's main event on #Raw in 12 years, and who have booked the first ever Hell in a Cell Match in #WomensWrestling history are cowardly? Really? Cowardly? Daniel might want to rethink his word choice there. It seems to me the last time he chose the root word "coward" to describe someone, he was schooled by The Miz. Stephanie and I thought we would have to wait until #SurvivorSeries to humble Daniel and Shane-O Mac – but if need be, we can layeth the verbal smacketh down on their candy asses long before then. Don't mess with the #McMahonFoleyConnection.
*Rock's catch-phrase stolen with his permission.
– Former WWE Superstar Cody Rhodes will be making an appearance on tonight's episode of Arrow on the CW Network. Cody will be sharing the screen with his former WWE rival and the star of Arrow, Stephen Amell.
You can find the official synopsis for tonight's episode below:
Green Arrow is forced to battle new drug dealer Garret Runnels, who is terrorizing Star City, after Wild Dog strikes out on his own to take the dealer down but quickly learns he's not up to the task.
– Jonathan Coachman will welcome Brock Lesnar's advocate Paul Heyman on to his ESPN "Off The Top Rope" segment tonight at 9 pm EST. Heyman will be promoting Brock Lesnar's looming fight with former WWE & WCW World Heavyweight Champion Goldberg.