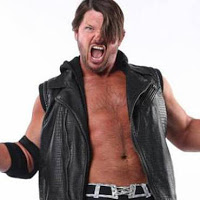 WWE World Champion AJ Styles recently spoke with ESPN to promote the new WWE 2K17 video game. The full interview is at this link and below are highlights:

ESPN: In terms of some of the guys who you faced prior to signing with WWE, like a Joe, like a Nakamura, how much are you looking forward to the opportunity to showcasing those kinds of matches for a WWE audience in the future?
AJ: Absolutely, I am. I mean, the chemistry I have with both those guys, and other guys that are coming up through NXT or a part of NXT, it's kind of one of those things where you can't rush it. But all this stuff is gonna eventually happen. We just have to be patient.
ESPN: Given the chance, whether you have three or five or 10 Wrestlemanias ahead of you, is there a list you have, like a must-face guy or a dream opponent that you would like to face at some point?
AJ: I always say when it comes to dream matches that is not up to me, that's up to the WWE Universe. That's up to the fans. But there is a guy on SmackDown that I have yet to wrestle yet that's certainly gonna happen at some point, and that's Randy Orton.
ESPN: As the WWE World Champion, you are playing a pretty massive role in what's going on in Smackdown Live right now, where everything's been very well received. For you in particular, we have as our No. 1 in our Power Rankings and we're certainly not alone. What is it like to have your work recognized and your level of performance recognized to the degree it has since you joined WWE?
AJ: It's huge. That's what you work for, is to be recognized. It's nice to know that the hard work that you've put in all these years is finally getting the, I don't want to say praise, but you know. I busted my tail for so long, I'm just glad it's getting recognized now as part of the WWE. Because let's face it, the WWE is the biggest company out there when it comes to wrestling. I'm just happy that I'm being recognized as somebody who works hard, I guess.