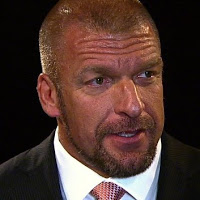 – The Rock received a ton of praise on social media last night for the season finale of HBO's Ballers. Rock noted that season three begins filming in 3 months.
– WWE posted this video of Triple H and Stephanie McMahon after last night's WWE Clash of Champions pay-per-view in Indianapolis. Stephanie tells Tom Phillips that the show was incredible and congratulates Kevin Owens on retaining the WWE Universal Title. She then is greeted by husband Triple H coming out of the limousine. He asks her how the show went and they leave together all smiles.
– As seen at WWE Clash of Champions last night, Chris Jericho defeated Sami Zayn in singles action. This Fallout video features Jericho forcing Andrea D'Marco to introduce him as the greatest of all-time before continuing. Jericho says he was lucky to get out of the match alive because of Sami Insane. Jericho says he gave Sami what he wants and needs.