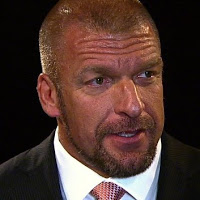 Triple H went live on Facebook with Cathy Kelley after tonight's WWE NXT "Takeover: Brooklyn II" event. Triple H said the brand is on fire and continues to get bigger and bigger after tonight's phenomenal event. He gave props to everyone for the show, mentioning that it was another sold out NXT show at the Barclays Center.
Regarding NXT going to New Zealand and Australia later this year, Triple H called the growth unbelievable and said they have more and more places that want to bring NXT in. He said the WWE Network is everywhere, which means NXT can go anywhere, and when NXT delivers how they did tonight, there's not a place on the planet where they can't sell out.

He said we will see what happens to Bayley next after her loss to NXT Women's Champion Asuka but gave her props for how she works a crowd. He said Brooklyn is her place and she should be proud of that. He also praised Asuka and said she's on a different level right now. He doesn't see anyone challenging her unless they surprise him.
He said Asuka and new NXT Champion Shinsuke Nakamura being the face of the brand just shows the global diversification of what NXT and WWE overall is. He said everyone wants to be in NXT to compete against the best, to put on shows like they did tonight and to tour the world. He called NXT the hottest brand going right now.
Regarding NXT call-ups in the WWE Draft, he pointed out how last year's "Takeover: Brooklyn" card featured so many SummerSlam 2016 stars. He says NXT will continue to deliver the future. With Finn Balor vs. Seth Rollins for the WWE Universal Title, he said we will see the volume turned up from what we saw in NXT. He's also excited about Charlotte and WWE Women's Champion Sasha Banks tearing the house down. He said they had a completely different group of people tonight and said the talent pool is as deep as it's been, and will continue to be that way. He said NXT is always creating the future and the future is always evolving.
Tripe H also commented on violinist Lee England Jr. "lighting the place up" for Nakamura's entrance, praising the visual. Regarding the new NXT Champion, Triple H said he's one of those once-in-a-lifetime athletes that can come in and captivate the world. With Nakamura as champion, that means the future is bright for NXT.