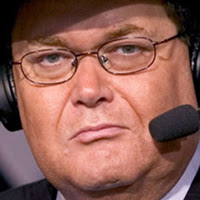 – Jim Ross has posted a new blog over at JRsBarBQ.com, and below is what Ross had to say regarding Ambrose's Steve Austin podcast comments labeling Brock Lesnar's WrestleMania 32 "laziness":

"Interesting comments made this week by Dean Ambrose and by Daniel Bryan regarding Brock Lesnar being 'lazy.' If true, and I'm not saying that it is as I'm not around Lesnar whatsoever, could it be because Brock is residing the dreaded "comfort zone" which is an area that adversely affects professional careers in many fields and certainly negatively affects relationships of all kinds?
– As noted, WWE star Paige is currently out of action with reported back and shoulder issues.
According to the latest edition of The Wrestling Observer, Paige might have actually suffered some nerve damage in her back and shoulder, and Dave Meltzer compared her injuries to a common issue a lot of wrestlers deal with. "What a lot of the guys have had that had serious problems where the problem has led to weakness in the right arm which was the first stage for some major issues with a lot of the guys," wrote Meltzer.