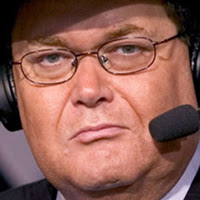 Jim Ross posted his latest blog on his JR's Bar-B-Q website, talking about Kevin Owens' WWE Universal Championship win, Triple H's return and more. You can read a few excerpts below:
Jim Ross comments on Kevin Owens' title win on RAW:
Congrats to Kevin Owens on his win Monday night on RAW and becoming the 2nd Universal Champion thanks to a massive and surprising assist from HHH. So, Owens essentially cheated to win the title in a presentation that presented more questions than answers as the broadcast went off the air.

Let us remember that is is usually successful when pro wrestling villains 'cheat' to win things of significance and the Universal Title is certainly significant even though some fans choose to die on the hill of the title belt not being to their liking and the actual name 'Universal' is a negative.
Ross on Triple H's RAW return during the main event:
Curious to see where this latest development takes long time and established star in WWE, @TripleH. That development likely will lead to something significant at WM33 in Orlando.
Ross on Neville being a possibility for the WWE RAW Cruiserweight division:
Neville is a talent who has something special and would likely be a great addition to the Cruiserweight roster if the plans are for the smaller athletes to mean as much as they can become. I can easily see a hot, Cruiserweight division adding to RAW TV shows and live events especially if the title has clout and can build equity.
One thing is seemingly for sure and that is the Cruiserweight matches will likely to be athletically pleasing and largely universally accepted….especially if talents slow down a half a gear and add more timely selling into their repertoire.