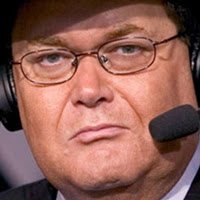 Justin Barrasso of Sports Illustrated's Extra Mustard recently spoke with Jim Ross to break down the upcoming WWE Draft, and below are some quotes from Ross:
On if The Shield needs to remain on one show:
I would not base my draft on keeping The Shield together or not. If it happens that all three guys end up on the same roster, that would be great, but I wouldn't go miles out of my way to make that happen. If it's part of a bigger picture idea, then it would be nice if you could facilitate it. They always have good matches and put together good storylines, but I wouldn't go out of my way to do it. If keeping them together didn't cripple the rest of the things I was trying to do, then that would be great.

On the return of two Champions in WWE:
If you want each brand to be separate, you need each to have its own world heavyweight champion. If you want to be unique and run two different promotions, then both promotions need to have their own champion. To me, it's a no-brainer.
On new talents getting a shot with two titles:
I like Bray Wyatt, I like Kevin Owens, I like Sami Zayn. Balor is going to get up there, and Nakamura is a player. It's the same opportunity for everyone on the roster. Everyone on the roster has the chance to get in the game in a more prominent way. If you look at the roster now and place it into two long columns horizontally, it's pretty intimidating. But when you cut those rosters in half for two shows–also cutting in half the babyface roster and the heel roster–you're subdividing the roster even more, and they're not as vertically intimidating. You're one of the 10-15 guys instead of 35-40 guys, and you're also going to be on the roster with other people who know they have to turn it up and really maximize the minutes they get on television–and that helps to book at a higher level.
So it all comes down to, who is the best? Who's going to connect to the audience in the most long-lasting way? It's a unique business right now, and it's a lot more competitive than people think. They're first and foremost athletes, and they're all very competitive. People don't understand the competitive nature in the locker room in wrestling. That's going to make the product a whole lot more interesting to watch.
On what to do with Brock Lesnar and a possible build to Samoa Joe vs Lesnar at WrestleMania 33:
I would draft Brock Lesnar first. If you don't draft Brock Lesnar, and your competition does, how stupid does that make you look? I'd want to draft him in a heartbeat. I'm sure he's getting a massive weekly check for his dates, so I doubt he has any buyer's remorse based off the money he's making for his dates. And for WWE, that's smart–people are taking about him, and he's their property. He's going to be on WWE TV infinitely more than he'll be on UFC's television. It's smart marketing, and Vince is the smartest marketer in the business and he's not going to miss any opportunities. Brock is a once in a lifetime guy, and there has never been anyone like him–mentally or physically–until now.
Here is the thing–you're going to have Brock Lesnar at WrestleMania, and who is his opponent? You can't wait until January to figure that out. So bring up Samoa Joe and get him hot. He hasn't lost on television, and build up Samoa Joe-Brock Lesnar at WrestleMania 33. Sign off on it, and then work backwards into it–that's how you do it.