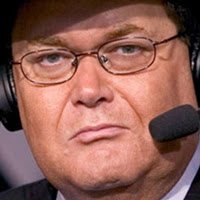 WWE Hall of Famer Jim Ross posted his latest blog entry on his JR's BBQ website. JR talks about Adam Rose's arrest and suspension, Kevin Owens' WWE run as of late, pros and cons of this week's RAW and more. You can read some highlights below:
Jim Ross comments on Adam Rose's arrest and suspension:
Sad to hear of Adam Rose aka Ray Leppan being arrested for a domestic disturbance which comes on the heels of his second wellness policy violation. One can only image the level of stress that this man was/is enduring which absolutely gives him NO free pass to commit domestic battery against his wife. Curious to know what Adam Rose's Plan B is as every wrestler should have a viable, Plan B especially when they get north of their 30th birthday. How does this relate to this incident?

When performers have no plan B, they often find themselves in a state of helplessness. For example, what do I do to stay in America, for instance, as in South African Leppan's situation? What can I now do to provide for my family? How do I properly raise my children and be the husband to my wife that I should be? How do I regain my self esteem?

To eliminate the feeling of hopelessness from a talent's mind set is a primary reason for having a marketable, Plan B for all sports entertainers. The job does not last forever nor does the money that the job creates. If all those entering the wrestling business understands that fact going in then the product, the performers and all that they touch will be better served.

Ray Leppan is not a bad person but he's seemingly in a bad place that merits our positive thoughts. Ray has a special needs son which in itself should encourage wise decision by the head of the household but that hasn't been the case recently. My sincere wish is for the Leppan family to learn from this situation,move on positively and to galvanize with one another. This isn't about one's pro wresting career but instead it's about the head of the household making good decisions and caring for his family.

Ray being suspended indefinitely by WWE was expected after the domestic battery arrest. WWE did what they had to do without question.
JR talks Kevin Owens:
Kevin Owens continues to be the most consistent WWE performer on TV week after week. I'd love to see Owens programmed with Brock Lesnar, John Cena, Reigns, or any top talent going forward. It seems that if any one in WWE is best suited to be an Austin-like personality it would be Kevin Owens. In other words, in today's marketplace Kevin Owens is going ot be hard to make and keep heel. One of my persona dream matches would be Cesaro vs KO. Great wrestling matches would turn many heads.
JR comments on Big Cass' main event spot on RAW this week:
Good to see Big Cass' build continue. If 50/50, even Steven like booking doesn't creep into Cass's build, then I think that Cass has a good chance to turn heads which would be because the 7 footer was able to get on the elusive roll that he needs.