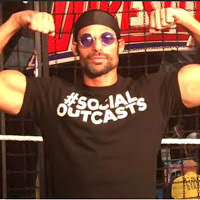 The WWE website has confirmed that Adam Rose is suspended indefinitely following his arrest in Hillsborough County, Florida early this morning after an incident with his wife. WWE previously announced the suspension via The Wrap with a statement that said they have zero tolerance for domestic abuse.

Below is the full statement from WWE acknowledging the arrest:
Raymond Leppan (a.k.a Adam Rose) arrested, suspended

TAMPA, Fla. — Raymond Leppan (a.k.a. WWE Superstar Adam Rose) was arrested at his home this morning by the Hillsborough County Sheriff's Office in Tampa, Fla.

According to a police report, Leppan was taken into custody and booked on alleged charges of tampering with a witness, a felony, and battery domestic violence, a misdemeanor. He is currently being held without bond.

WWE has zero tolerance for matters involving domestic violence, and per our policy, Raymond Leppan has been suspended indefinitely following his arrest.