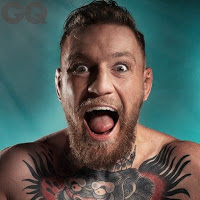 – It looks like Viktor of The Ascension is replacing Adam Rose on the current WWE European tour. Viktor came out with Curtis Axel at today's WWE live event in Belfast and was wearing a "Social Outcasts" t-shirt. Axel lost to Goldust and the two beat him down after the match until R-Truth made the save.
As noted, Rose and Viktor's partner Konnor have been suspended for 60 days after their second violation of the WWE Wellness Policy. Fellow "Outcasts" Bo Dallas and Heath Slater are working the other part of the tour. Below is a photo of Viktor with Axel today:
— xRobsonHD™ (@Robson_Balmbra) April 20, 2016
– WWE is stirring the pot and poses a question to the Universe – Is Conor McGregor On His Way To WWE?
As noted, Conor McGregor announced his retirement on Tuesday, a bombshell that had people wondering if this was legitimate, a promotional tactic to hype UFC 200 or private negotiations blowing up and McGregor playing hard ball in a very public way.
UFC President Dana White confirmed that McGregor is OUT from the UFC 200 main event against Nick Diaz, and shortly following McGregor's announcement, social media was buzzing about him possibly jumping ship to WWE. A few 'mainstream' websites covered the story, based on mostly speculation and the fact that "McGregor now follows Triple H, Stephanie & Shane McMahon on Twitter." In fact, he followed them prior to WrestleMania.
Then, Becky Lynch tweeted to McGregor and invited him to join her in WWE. Now, WWE has released a social media update hosted by Cathy Kelley addressing the situation: