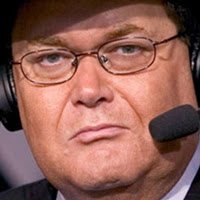 WWE Hall of Famer Jim Ross watched RAW on Monday and says he thinks Cesaro is a main eventer "waiting to explode." In a new blog entry on his website, Ross says once Cesaro gets "over," he would pay to see him wrestle Brock Lesnar.
Ross predicted another future main eventer after watching Monday's RAW: Apollo Crews. "Crews is a helluva prospect and has a legit chance to be a main event player for years to come," Ross wrote. "No guarantees, but he's got all the tools or so it seems."
The former WWE Head of Talent Relations says the audience booing Roman Reigns is at least better than silence. "Most fans are booing, but they are also making noise which is encouraging," Ross wrote. "I'm not even sure any more what reactions the live audience would provide us, viewers if Reigns was turned into a full fledged villain. Just my take but how Roman Reigns has been booked may be the single biggest reason that fans are so reluctant and resistant to accept him as a fan favorite. That may sound overly simplistic but today's audience is more complex and knowledgeable than their predecessors of any generation and as a society few like being 'force fed' anything. It's that defiance thing.
"Roman Reigns is a talented, valuable piece of talent who's a long term, work in progress and his TV persona isn't close to being refined as it will be say by WM33 in Orlando for example," Ross continued. "Patience is the key here for all, however, in the age of defiance patience is a fleeting trait."